Positive Psychiatry: A Casebook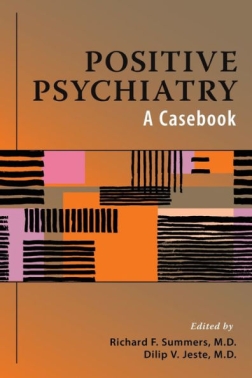 Published by Amer Psychiatric Pub Inc
Positive psychiatry is a new field, but one with a growing empirical database and a developing literature. Still, for all positive psychiatry's potential to improve outcomes and transform care systems, many clinicians remain unsure as to how to apply these interventions with their patients.
It is this uncertainty that makes Positive Psychiatry: A Casebook such an indispensable resource. This guide illustrates how clinicians have successfully combined traditional psychiatry approaches and positive interventions, how positive interventions can enhance the quality of medical care, and how these interventions are employed in educational and coaching settings.
The book opens with an overview of the history of the positive in psychiatry, a summary of the effectiveness of positive interventions, and an overarching conceptualization of the field of positive psychiatry.
Thirteen extensive, detailed cases follow, organized into three sections: mental health treatment (e.g., schizophrenia and bipolar disorder), medical care (e.g., diabetes and chronic stress in caregivers), and educational and coaching interventions (e.g., medical internships and law school).
The clinical cases include a summary, a description of the patient that takes into account his or her strengths and weaknesses, a detailed discussion of the intervention(s), and the outcome of treatment. The examples from the third section on education and coaching provide a unique opportunity to assess the effectiveness of positive interventions in nonclinical settings. All chapters feature "take home points" that summarize the salient concepts and allow for ease of reference.
Featuring a wide array of settings unmatched by any other compendium of psychiatric or positive case material, Positive Psychiatry: A Casebook is a must-have reference for any clinician seeking to apply positive interventions to their practice.
paperback | 9781615371396 | July 6, 2018